Kendraio Pay
Kendraio Pay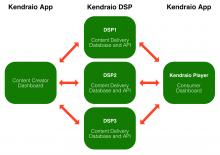 Kendraio Pay
An end-to-end reimagining of the interactions between DSPs, artists and consumers and how we monetise music on the web.
Funded by Grant for the Web, Kendraio Pay is an open-source project all about reimagining and innovating web monetisation for the music industry in a way that contributes to a healthier, fairer and more inclusive internet.
Kendraio Pay and its components Kendraio Player and Kendraio Stream collectively form a simple proof-of-concept of an end-to-end streaming player that uses technology by Coil and Interledger.
We want to imagine what it would look like to give the power back to the musician. Kendraio Stream allows artists to publish to multiple DSPs at once through one interface, while consumers can also consume content from several DSPs in one interface. Our goal is to minimise admin time, make it easier to collaborate, and conceptualise a more user-centric way to web monetise music.